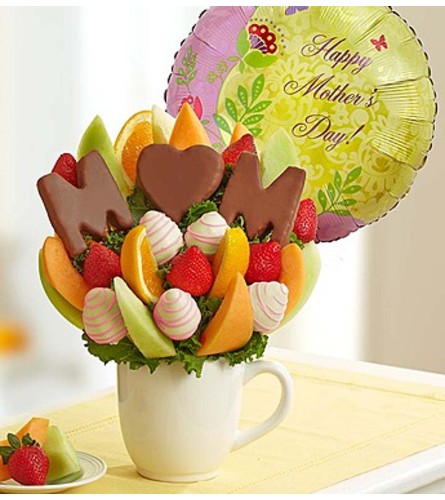 's Perfect Bouquet
Fresh Picked Sweets for Mom™
---
Description
---
Mom's the one person who can always put a smile on your face. Return the favor with a sweet treat picked just for her! An assortment of fresh, juicy strawberries, oranges and melon will make her mouth water. But what she'll really love is the dipped pineapples spelling out "M-O-M", with a heart in the center! You can even add on a festive Mother's Day balloon to help celebrate her special day.
Fresh fruit arrangement includes pineapples dipped in milk chocolaty confection that spell out M-O-M, with a heart-shaped "O"; honeydew, cantaloupe and orange wedges; and both strawberries dipped in white chocolaty confections and undipped strawberries. Allergy Warning: Fruit Bouquets products may contain peanuts and/or tree nuts. We recommend that you take the necessary precautions based on any related allergies.
Product ID 143625MB
Approximately 11"H x 8"D
What People Are Saying
---
Lauren Ashley
January 28, 2021
We received a stunning bouquet from my cousins that live out of state. It appears they found it through 1-800-Flowers but the card clearly states it was arranged by this florist. So we are giving you all the credit for how beautiful it turned out ☺️
Keith Cooney
October 22, 2020
Separately I ordered a bouquet from FTD (same-day delivery!) and my in-laws ordered one from 1800Flowers. Both orders were received, fulfilled, and delivered together by Guzzardo's. Could not have been happier with the arrangement and it looked exactly as shown online. I actually called them to thank them and they seemed genuinely appreciative of the feedback. I will consider them for future orders.
Sandra Owen
October 22, 2020
Received birthday bouquet today from Guzzardo's and the flowers were absolutely gorgeous...very colorful with beautiful hot pink roses, sunflowers, lillies. We purchased through 1800 flowers. My daughter, who lives here will, I am sure, purchase flowers.
Reviews Sourced from Google
You May Also Like
---